Revitalize And Renew
WHAT WE DO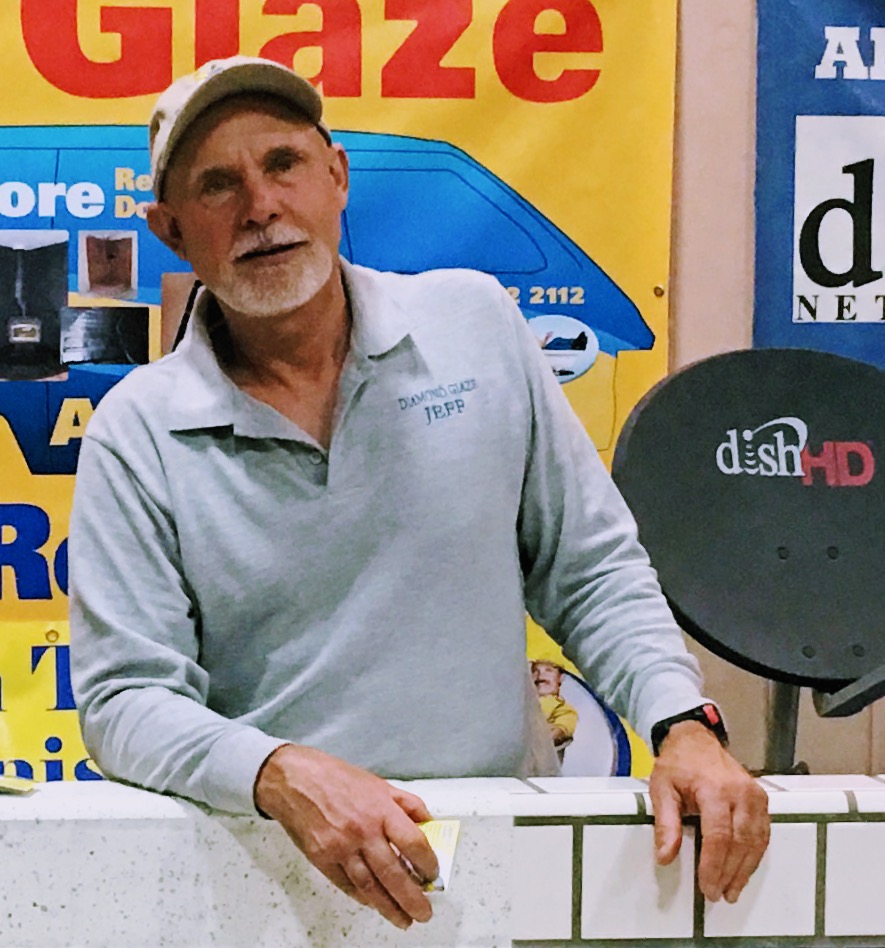 Jeff Stoops
Owner, Diamond Glaze
About Us
JEFF STOOPS, OWNER, 43 YEARS EXPERIENCE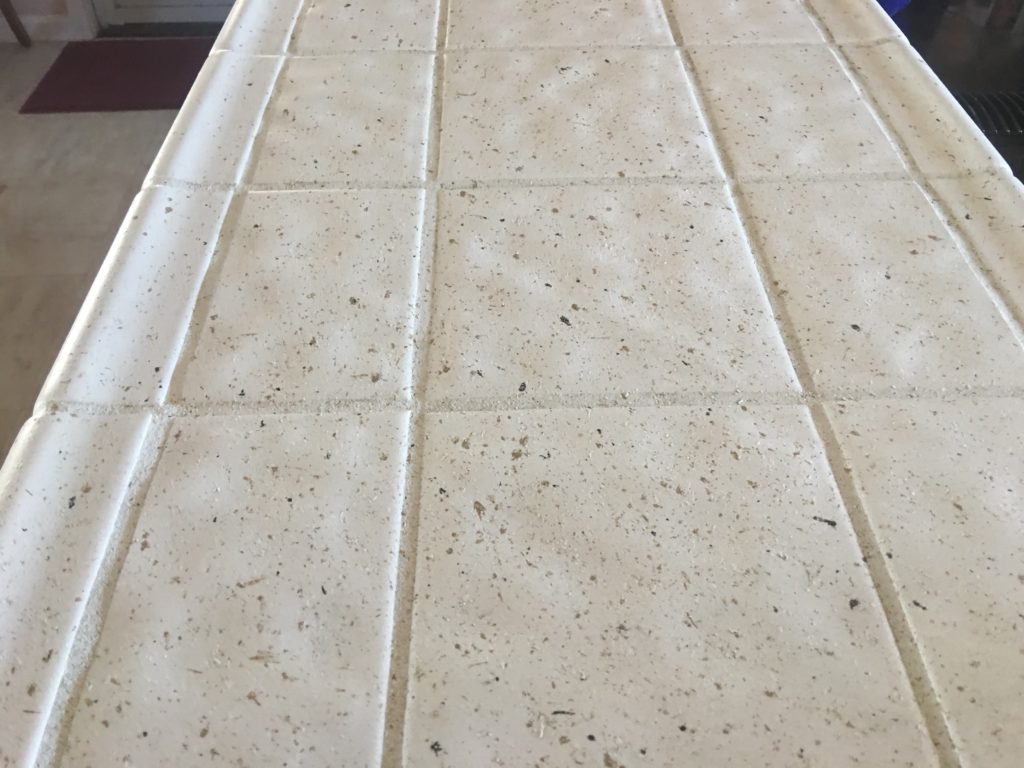 Diamond Glaze is owned and operated by Jeff Stoops in the Sierra Nevada foothills of Northern California. Jeff originally started his business in 1973, repairing fiberglass bathtubs in Bakersfield. When he bought a franchise for porcelain refinishing, his work soon expanded to include pressed steel, acrylic, cast iron tubs, tile showers, countertops, and sinks. Jeff relocated to Grass Valley in 1978, where Diamond Glaze has established a reputation for providing an exceptional product and service of only the highest standard.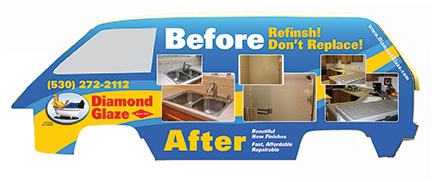 For decades, Diamond Glaze has provided quality workmanship to a wide range of clients, including Hyatt Regency Hotels, various motel franchises, and numerous home owners and property managers. Jeff's vast experience, knowledge, and ability for precise application is unsurpassed, and he ensures the most important requirement of all – your satisfaction.
Diamond Glaze currently services all foothill locations including Grass Valley, Nevada City, Penn Valley, Auburn, North San Juan, Colfax, Marysville, Loomis, Roseville, Rocklin, and everywhere in between.
Diamond Glaze Warranty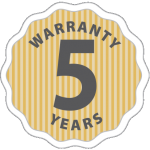 Diamond Glaze porcelain resurfacing is guaranteed to be free of defects in material for a period of five years, and workmanship for a period of five years from the date of service. If, within a five year period, the Diamond Glaze resurfacing material fails, we will recoat the surface, charging only for cost of labor (if work was pre-formed longer than five years prior).
Our Process
What you can expect
BEFORE THE JOB
Because the Diamond Glaze process is a finish job, it is recommended that all other work in the project area be completed prior to application. There should be as little dust as possible.
The plumbing in the project area must be in good working order. This means NO DRIPS! When checking for leaks, make certain that the shower valve is released and that there is no water in the pipe to the shower head.
Shower doors should be removed, including the door frame and accompanying hardware. If there is any silicone sealant remaining, as much as possible should be removed.
The project area needs to have accessible electricity, heat, and running water.
For bathroom projects, the bathroom door must be in place, even if remodeling is being done concurrently.
All items and appliances must be removed from the project area.
PREPARATION
We take great precaution and care preparing the surface for the Diamond Glaze coating. This is the most critical part of the job.
First, we clean the surface with a specially formulated cleanser and remove any silicone.
Second, we sand fiberglass fixtures; or perform an acid wash process on tile, pressed steel, and cast iron to remove any residual mineral deposits and silicone. Any chips or cracks are then ground out and filled in.
Next, we mask around the fixture to protect the surrounding areas.
Last, we apply the bonding agent prior to application of the Diamond Glaze coating.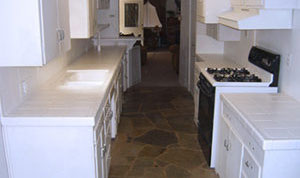 APPLYING THE COATING
Diamond Glaze coating, a premium quality commercial-grade acrylic urethane, is mixed on-site and applied with an HVLP turbine sprayer at 90 to 100 degrees Fahrenheit.
Generally, 3 to 6 coats of Diamond Glaze are applied depending on the color and type of job.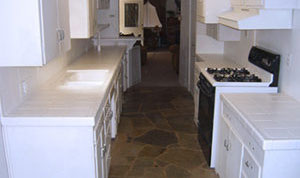 AFTER THE JOB
Diamond Glaze coating takes 24 hours to dry. Following this initial drying period, all that is left to do is remove the masking, and to apply a bead of latex caulk around the edges of the fixture and between all seams.
The caulk will require 24 hours to dry. After this time, the fixture is ready for use.
FAQs
Frequently Asked Questions
Caring for Your New Surface
Ensuring Longevity
While refinishing fixtures with Diamond Glaze only takes a short period of time, caring for your new surface properly is essential to ensuring its amazing longevity.
IMMEDIATE CARE (The First Few Days)
Upon completion of the Diamond Glaze refinishing process, DO NOT use your new surface for at least 48 hours. After this initial period, the refinished fixture can be fully utilized; however, the surface will actually take up to 90 days to completely cure.
Please observe the following:
All newly refinished fixtures will have some surface dust which will have settled on the surface. THIS IS NORMAL. Do not attempt to remove dust particles during the the first 48 hours of the curing process. Normal use and regular cleaning following this initial period will remove all minor surface dust.
During the refinishing process, masking is used to protect other surfaces. The masking tape can easily be removed, and may be done after 24 hours following completion of the refinishing process. Care should be taken when removing the masking tape. Remove slowly and carefully using a razor blade or utility knife to break the bead where necessary.
After removal of the masking, a bead of caulking must be applied around the edges of the fixture and between all seams. The caulk (Dap tub and tile) requires 24 hours to dry. After this time, the fixture is ready for use.
In some cases, there may be masking over the drain area. To remove this masking, cut an slit in the center of the masking directly above the drain hole. Place a finger through this opening to grip the masking. Lift slowly, using a razor blade or utility knife to break the bead where necessary. Any Glaze remaining on the surface of the drain shoe can be carefully removed with a razor blade or utility knife.
After 48 hours, clean the finish regularly with mild (non-abrasive) soap and a sponge.
Do not lay soap, bottles, or any other objects on the finished surface during the 48-hour initial curing period.
Be sure that your faucet taps are dry and not dripping. You should towel dry the refinished surface after each use.
The corners of walls and the areas between the walls and tub may have sealed caulk areas. Care must be taken when cleaning these areas, as they may take up to 90 days to fully cure. If any cracks appear over the sealed caulk areas, reapply a fresh bead of caulk. ("Dap" brand caulk is recommended).
Testimonials
I would highly recommend Jeff at Diamond Glaze!
For our 1965 bathroom remodel, we were looking for an alternative to removing the outdated tub and title – still in excellent condition – and incurring the replacment cost. Jeff at Diamond Glaze gave us a bid to refinish the tub and title using the Diamond Glaze resurfacing method. We were so delighted with the fished product that for out next project, we again hired Diamond Glaze. The results were fantastic. I would highly recommend Jeff at Diamond Glaze!
Judy Mickel, Grass Valley
We are very pleased
We have used Jeff at Diamond Glaze multiple times and we are also very pleased with the communication, workmanship, and results. The tub looks like new and it sure beats the cost of replacing a tub. We will use Diamond Glaze for all our needs such as this and since we have rentals we have had to opportunity to have several done.
Deb Hun, Grass Valley
I'd use them again in a heartbeat
Jeff was professional, arrived, kept everything taped up to avoid mess spreading, laid down tarps for him and his assistant. I'd use them again in a heartbeat. My only reservation I have is that I waited this long for his assistance.
Patrick Carr, Nevada City
I would highly recommend Diamond Glaze Finish.
We used them to refinish our kitchen counter and bathroom sink.  The service was fast and the quality was amazing.  The counter and sink looks as good as new! Jeff is really friendly.  I recommend Jeff and Diamond Glaze Finish for all your refinishing needs.
Sean MacLean, Penn Valley